Ever have one of those 'duh' moments? Well, I
had one this past weekend and, boy, it was a doozy.
What does every flea market junkie need to know?
(No, not where to find the cheapest tube socks.) How can
you identify a bargain if you don't know what you're looking at? That being asked, I'm pleased to have prepared for you:
A Chronological Guide of American Furniture Styles
Federal
1780 - 1820
Sometimes referred to as American Neo-Classicism, Federal is a blend of classic Greek architectural and decorative elements. Well known designers of this period include Thomas Sheraton and George Hepplewhite.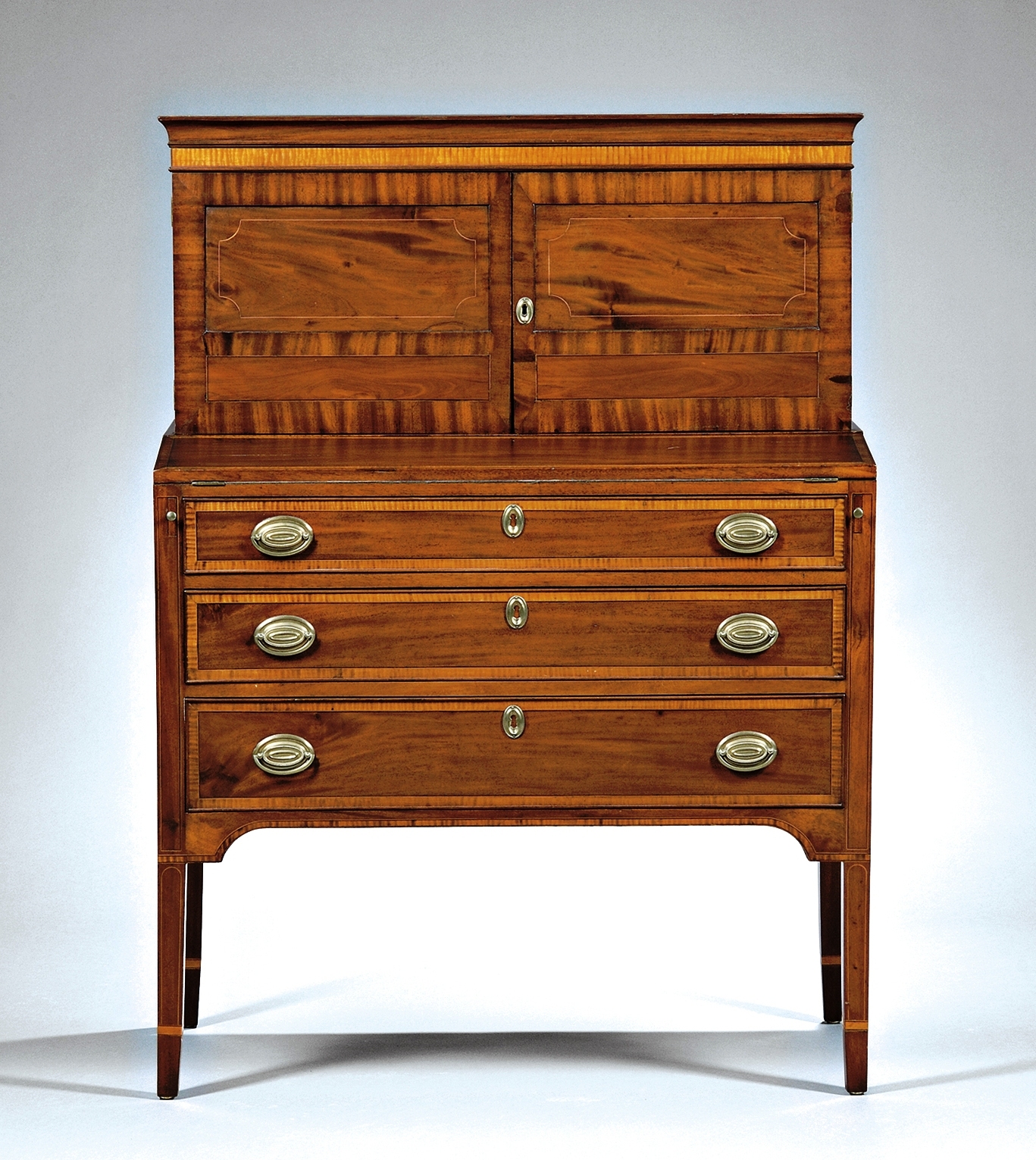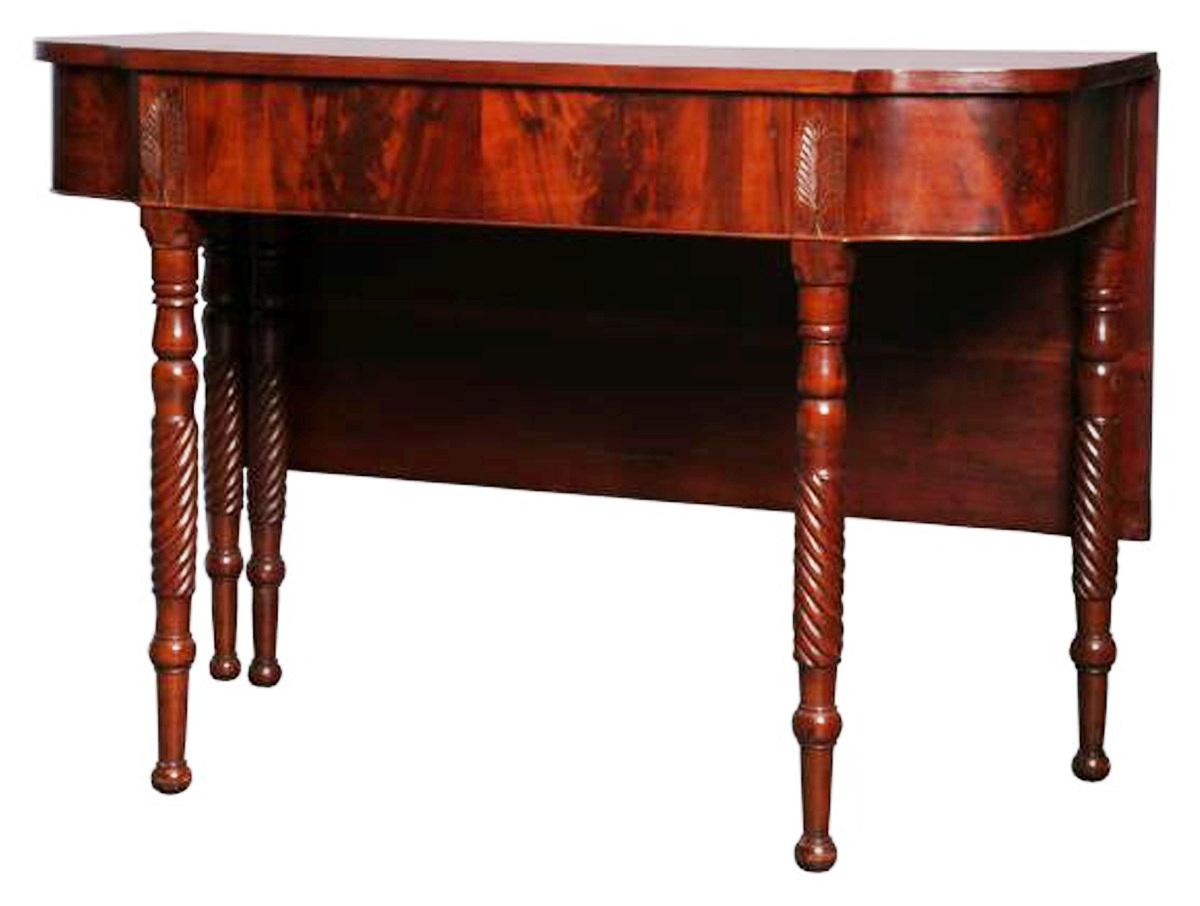 American Empire
1820 - 1840
Referred to in England as Regency, the Empire movement originated in France but quickly died out with the defeat of Napoleon. American Empire furniture is identified with simple, often immense, yet graceful curves, dark woods and veneers. Some pieces feature a lyre motif, occasionally a bird's wing shape and pineapples.
Notice the Egyptian influence on the legs of the chair, above.
That
design, along with gilded accents, are credited to Napoleon's
time in Egypt.
American Empire reproductions were popular in the early part of
the 20th century and it is often hard to tell an original from a fake.
Gothic and Elizabethan Revival
1825 - 1865
Thanks to the Industrial Revolution this furniture period was the beginning of mass production. Multiple cutting head lathes produced spool-turned items like the Jenny Lind bed.
Gothic Revival furniture closely reflects Gothic architectural designs.
A very nice set of Gothic and Elizabethan Revival dining
chairs that need to be upholstered with needlepoint.
A Thomas Day bed frame.
Empire Revival/Late Classicism
1835 - 1850
Right about now you're noticing that the dates of these periods of furniture overlap. There wasn't a Furniture Rule that dictated when a specific period started and when it ended. The dates given here are an approximation of when each style was the most popular.
The Empire/Late Classicism is sometimes called French Restoration, a second attempt at Empire. The most famous furniture makers of the time were Joseph Meeks and Sons of New York
The revival of the Egyptian elements and gilded
accents were appreciated by the Victorians.
American Rococo
1845 - 1900
Rococo is most often identified as Victorian. The excesses of the courts of Louis XIV and Louis XV of France fascinated late 19th century Americans and they were quick to emulate the furniture of that French period.
A single parlor chair, c. 1860. American-Rococo Style, ebonized wood with cast mounts consistent with the workshop of Auguste-Emile Ringuet Leprince.
Rosewood and walnut were the woods of choice.
Only the wealthiest of Americans could afford such intricately
carved pieces. It wasn't until factories began mass producing copies
that the middle class could afford such ostentatious pieces.
This 3 piece parlor set by J.H. Belter sold at auction in 2007 for $10,925.00.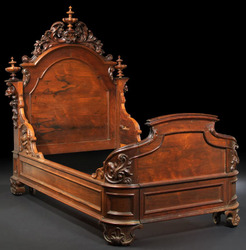 Balloon-back dining room chairs
Chair by John Jelliff, of Newark, NJ, a
furniture maker active between 1836-1890
American Renaissance Revival
1860 - 1885
This period is actually a revival of a revival. Often called "battleship" furniture because of its size, pieces of this period were ideal for factory manufacturing.
The Herter Brothers of Germany immigrated to America in 1848 and were the Rooms To Go of mass produced furniture of the late 19th century. They were the first to market entire rooms of furniture as a set.
A Herter Brothers table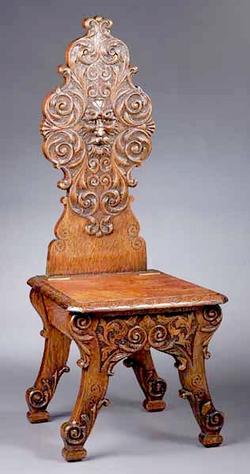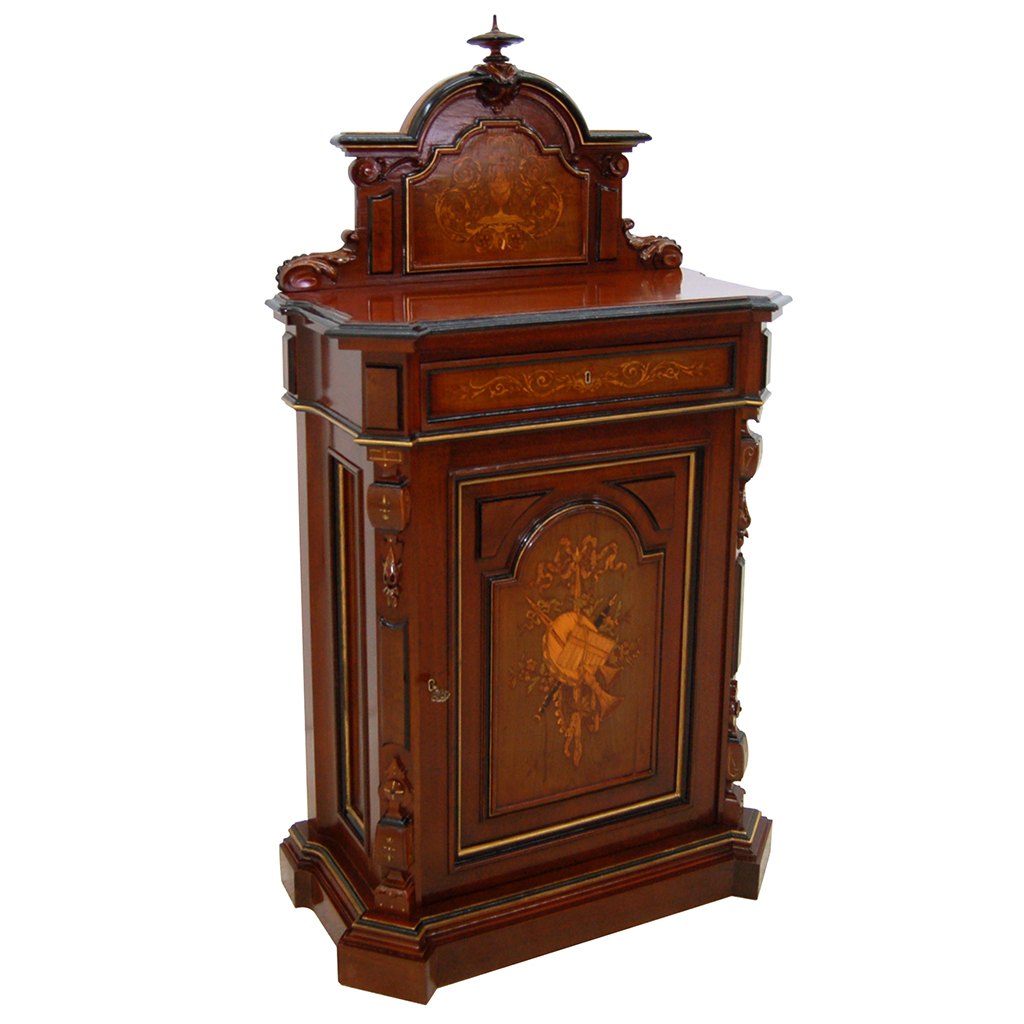 Music was an important part of the Victorians' lives and the
music cabinet, above, reflects their love of ornamentation.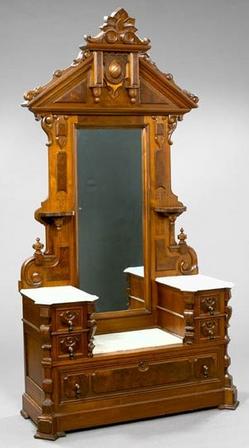 This dresser shows elements of the Eastlake style
which followed the American Renaissance Revival.
Eastlake
1880 - 1900
Closing out the end of the Victorian Age, Eastlake was the only original style of the 19th Century. As a backlash to the excesses of the Rococo and Renaissance styles, English architect Charles Eastlake chose more austere and simplistic lines.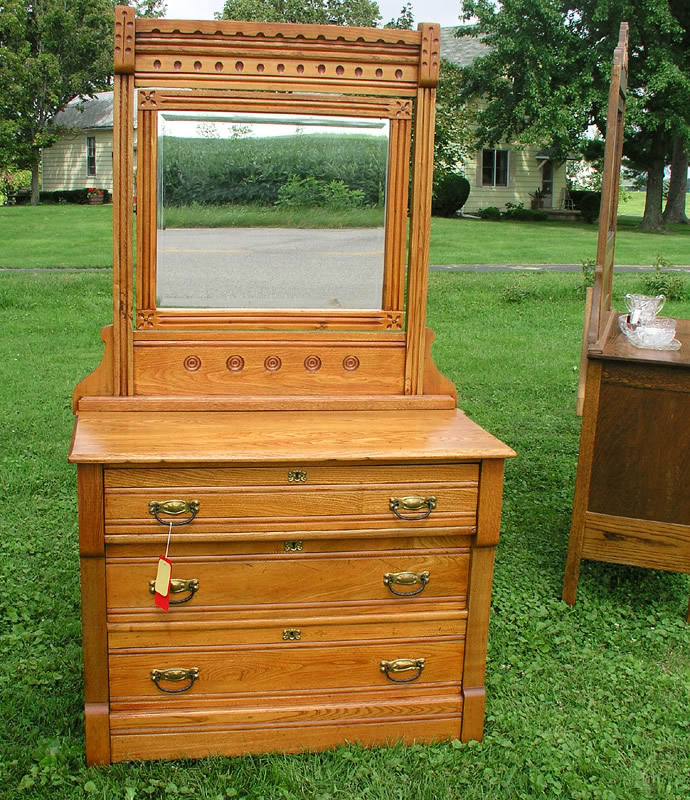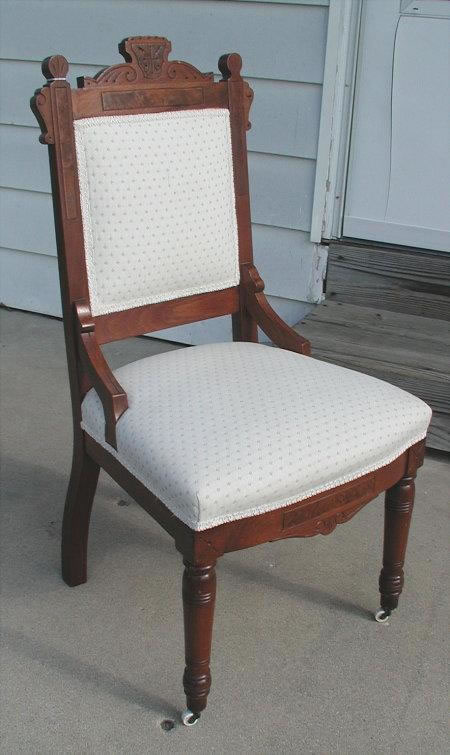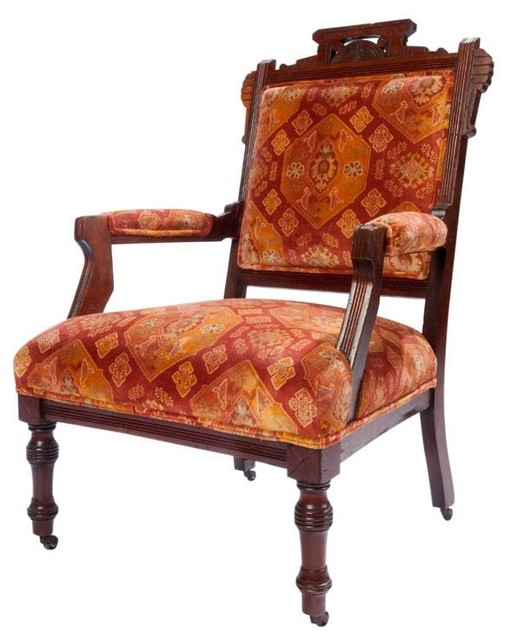 This double bed is made of maple.
This wash stand features a marble top and is made of walnut.
When American factories started mass producing Eastlake replicas in the
1890's Charles Eastlake expressed regret that his name was attached to the style.
Arts and Crafts
1880 - 1910
Often referred to as Mission Furniture, the Arts and Crafts movement was spearheaded by William Morris and Elbert Hubbard.
Can you see the elements of this Arts & Crafts style table and
china cabinet that resemble the Art Deco period that followed?
There is a noticeable gap in furniture design in the early 20th century due to the international impact of World War I. The Art Deco movement which followed the war was much more popular in Europe in the early 1920s but peaked in America in the early 1930s due to the Depression.
Chrome, leather and glass were important materials in Art Deco designs.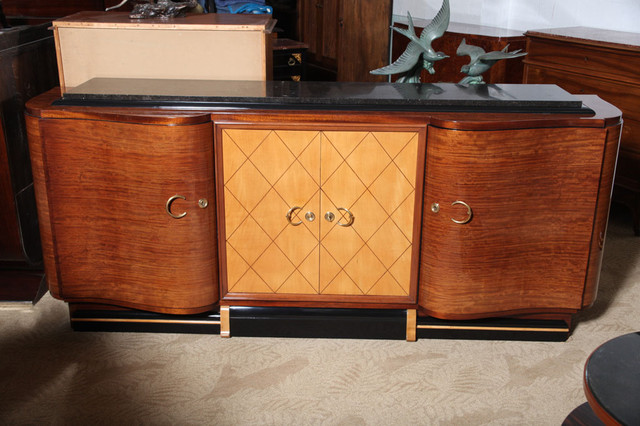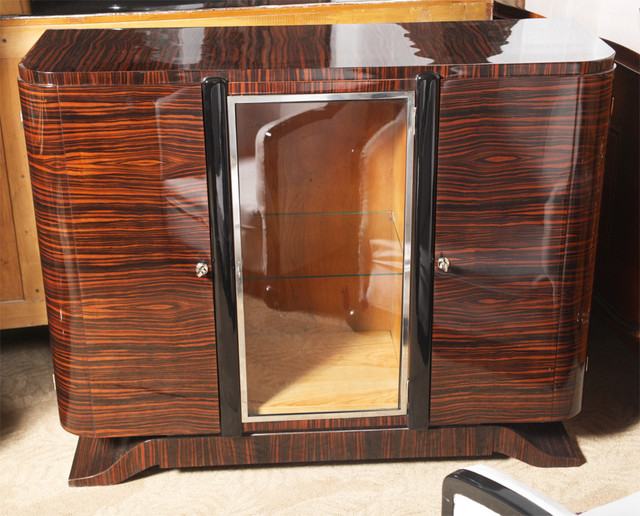 A Kem Weber 'Airline' chair from 1930 clearly exhibits
characteristics
of Mid-Century Modern streamlined designs.
Modern
1930 - 1955
Materials developed during World War II - laminated plywood, fiberglass, and plastics - were incorporated into the Modern and Mid-Century Modern movements of the 20th century. Designs were technology driven with an eye to the future.
Sleek, definite lines with an emphasis on simplicity were
attractive to the more sophisticated consumer of the 1950s and 1960s.
Exposing the grain of the wood is a distinct
characteristic of Mid-Century Modern furniture.
Two sculptural lounge chairs in the manner of Milo Baughman
(1923-2003), founder of the California Modern aesthetic.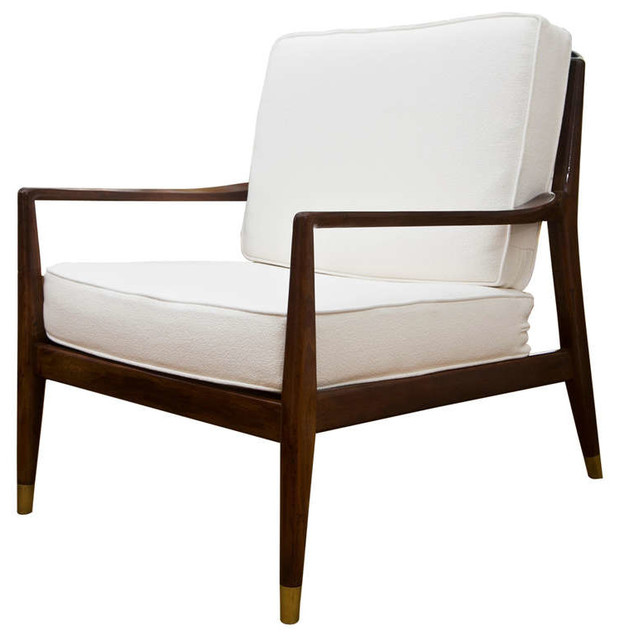 Classic Mid-Century Modern Danish Club chair with a walnut frame.
Retro
1950 - 1980
Retro style is a combination of whimsical and kitschy with pop-culture influences. The 1950s were seeing the last of the Mid-Century movement with sleek, slender furniture profiles and boldly patterned wallpaper and drapery fabrics.
Danish Tibergaard Nielsen teak desk
1950's chrome and plastic dinette set
The 1960s were playful with psychedelic patterns and splashes of color.
Plastic was a major material used in furniture and accessory design.
A Hans Christiansen polyester chair from Denmark:

The 1960s were a period of experimentation - socially and architecturally:
A blow-up plastic chair and ottoman
Denim covered sofa, c. 1964
Cade Wilson glass top table, c. 1968
The 1970s introduced bulkier, chunkier shapes with a predominance
of avocado greens, harvest golds, oranges and earthy tones.
An original 1970s Robin Day 4-4000 Armchair
made from injection-moulded ABS plastic.
Vellore fabric was introduced in the 1970's
and proved to be extremely durable.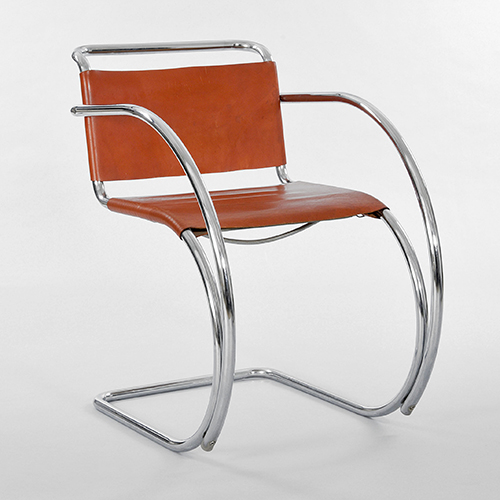 A Bauhaus D-42 chrome and leather tubular
chair, Mies Van derRohe, Germany, 1972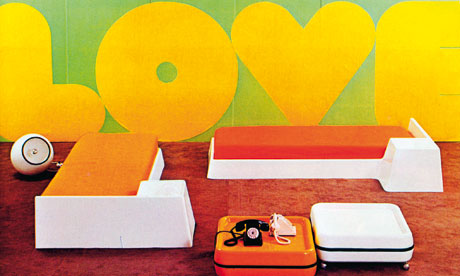 Inflatable Barbie furniture from the 1970s reflected the fun of the decade.
The 1980's were a mixture of traditional influences and classic prints.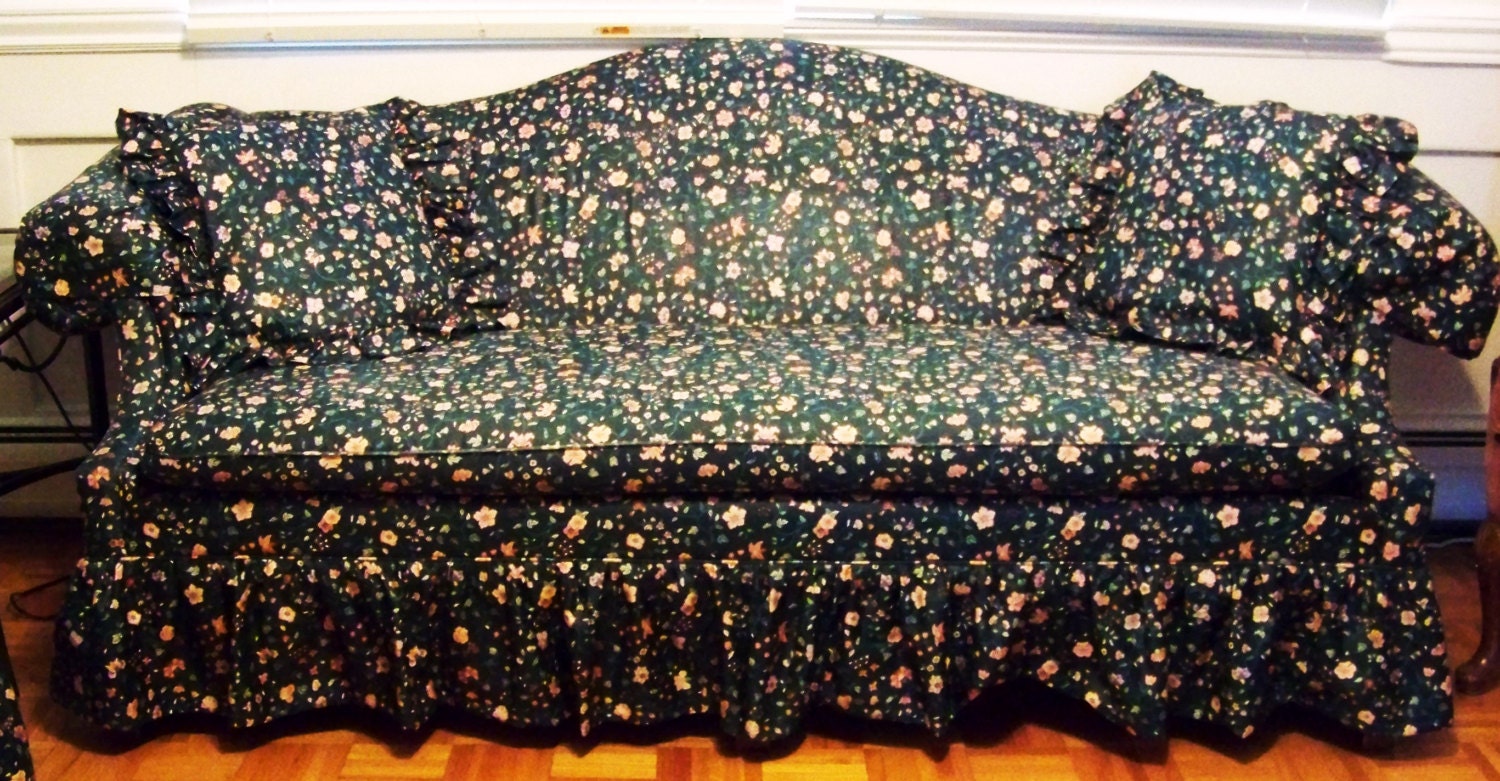 A 1982 Ethan Allen sofa
At the same time that traditional styles were gathering
popularity, some designers chose a more modern approach
such as the Muniz Plastic dinette set below:
This 1980's Baker Furniture table is a reproduction
of an Early Colonial American piece.
Who could have known in 1982 that this Ford Motor Company work
station would become a sought-after Industrial Chic piece today?!
Waterbeds were introduced in the 1970's and 'perfected' in the 1980's.
The 1990s brought back a trace of Art Deco influences as well
as Southwestern motifs. Teals, mauves and pastels were popular
colors and Chintz fabrics were used in draperies and accessories.
A showroom floor in Woodland Hills, CA, c. 1994
This leather sofa was featured in the 1995 Sears furniture catalog:
Recycling gained steam during the 1990's and many designers
embraced the repurposing movement. This chair was created
by Piet Hein Eek in 1994 out of waste materials.
Well, there you have it - a history of America's furniture
from the 1780's to the 1990's. I hope this guide will
help the n
ext time you're out 'flea-ing'!