Recently my long-suffering and patient BFF Lisa confided to me that she is a closet Steampunk fan. Why was I not surprised?! She's an eclectic, classy kind of girl and I can totally see her in that decorating genre.

Earlier this year I wrote a post about the trend toward Steampunk - a combination of 20th century industrial meets 21st century science fiction. (In plainer terms, envision Robert Downey, Jr., in the Sherlock Holmes movie series.) Completely fascinating décor.

According to many trend watchers, the steampunk movement is
the next shabby chic. Just say that you might want to dip your
toe in the waters of this approaching tidal wave of eclecticism, we
should
take a look at some of the basics of the style.
While this Victorian mercantile utility table might look
benign and common, it will set you back $1,500 - yikes.
Preeminent clock maker The Howard Miller Company is getting into the act with this Allentown exposed-parts clock. Priced at just over $200, it measures 21" across.
Lee Cowan offers this post-apocalyptic custom made
media console/credenza using a combination of reclaimed wood,
steel, and cast iron. It can be yours for $2,350 (plus shipping).
A Victorian school easel is perfect for displaying
art and any number of antique ephemera:
You can expect to shell out around $400 for an authentic period easel.
Who couldn't fall in love with a style that considers a
vintage soldering torch a decorating accessory?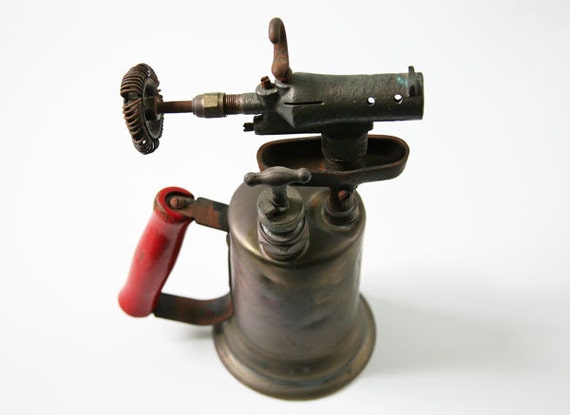 supplied with the latest leather furniture trends:
And we all know that if an established dynamo like Restoration
Hardware endorses a design element that makes it bona fide.
But for the purist who insists on a genuine 19th Century
leather club chair, they can expect to pay in the neighborhood
of $5,000. Yes, it is a very expensive neighborhood.
Who wouldn't adore an industrial, unusual coffee table . . . .
. . . . or a dual purpose dining table/book case?
And, lastly, the mainstay of any serious steampunk
enthusiast - an actual antique steamer trunk:
One in fairly good condition can be found for
around $800
in the occasional antique mall.
I'm thrilled to tell you that I actually
own an exact copy of this trunk and I only paid $50 for it in 1986.
So there you have it, friends - the starting guide for Steampunk Décor.
Expect to see lots more of this interesting style over the coming year.
Tuesday Miss Money Pitt Update
Given her age and the fact that she is built upon the side of a mountain, prior to purchasing our tarnished dove, we consulted with two independent foundation specialists and a home inspector to determine the structural integrity of the house. All agreed that she was sound if a little settled. So we proceeded with the purchase.
However, t
wo weeks ago hubby and I bit the proverbial bullet and made a huge ($$$) deci$ion - we chose to have the house leveled, righted, un-settled. The 'sand hogs' (as they refer to themselves) spent days under the house adding additional piers and installed a massive central girder. Now if you roll marbles across the den floor they don't tumble to the right southerly corner.
We've also decided to look into the genealogical possibilities that our Miss Money Pitt is a distant but emotionally close relation to the illu$triou$ and charitable Brad and Angelina Jolie-Pitt clan in the hopes of an endowment. In other words, our renovation budget is blown like a Kansas tornado. Albeit a stable, level tornado.